Curious Cub by Abraham Hunter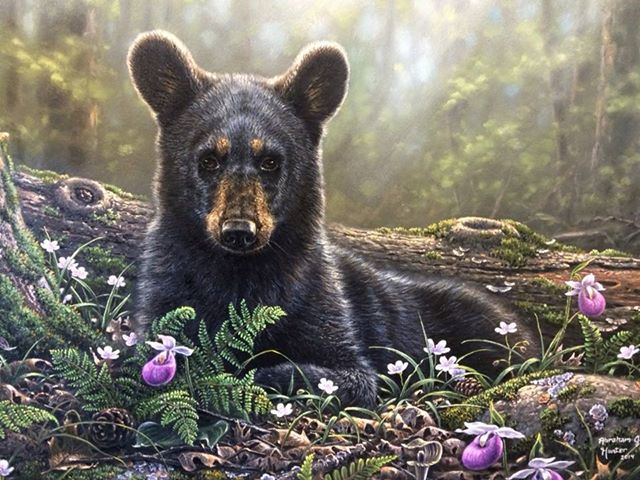 • SOLD OUT •
From the Artist:
Last year, I got some time off and made a visit to the Smoky Mountains. While I was there, I decided to head into Cades Cove to take some photos, find inspiration, and recharge. After hiking and driving all around the park, I finally found this little cub sitting under a tree just enjoying the day and curiously looking me over. I quickly snapped a few photos as reference for this painting. Then he climbed a tree and took a nap while his mom foraged for food nearby. It was such a special experience that I wanted to share it with you in this painting. This is one of my most detailed paintings. I really wanted it to feel as if you were there in the forest with him and enjoying the rebirth of spring while relaxing in the shade. I hope this little cub brightens up your day just like he did mine!
~ Abraham Hunter
12x16 S/N  (95):   $550 Framed   or   $400 Canvas •SOLD OUT•
12x16 A/P  (15):   $895 Framed   or   $745 Canvas •SOLD OUT•
18x24 S/N  (95):   $895 Framed   or   $695 Canvas •SOLD OUT•
18x24 A/P  (15):  $1395 Framed   or  $1195 Canvas •SOLD OUT•
Above prices represent Publisher suggested issue release price. Each Gallery is independently owned and operated and prices may vary
Also, Limited edition art may sell for higher prices on the secondary market after they are sold out
Note: A/P edition is embellished by the artist. Infinity Fine Art does not sell frames and frame prices are MSRP for comparison only.