Details
Charleston Harbor by Abraham Hunter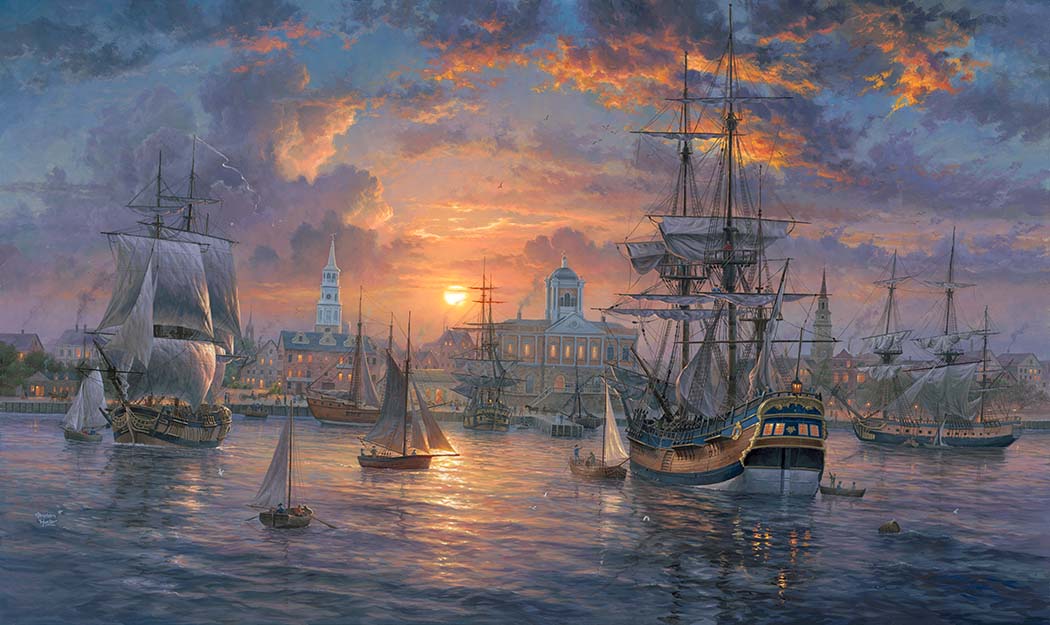 From the Artist:
Charleston, South Carolina is one of my favorite places to visit in the South! I love how each building, street, and dock are packed full of stories waiting for a painting to bring them to life. In this painting, I tried to imagine life in colonial times sailing in on a big merchant ship and arriving on a warm, humid evening into Charleston Harbor. After researching Charleston's colonial era, this is my depiction of the city's skyline during that era.
The last time I visited Charleston, I took a tour of the big building that is featured in the center of this painting. George Washington visited the ballroom of this building when South Carolina ratified the Constitution! If you are ever in town you have to go there and take a tour!
I hope y'all enjoy this painting and I hope I was able to transport you back in time with all of the small details so that you can feel like you're right there enjoying this romantic city!
~Abraham Hunter
12x24   SN    95     $695 Framed  or    $545 Unframed
12x24   AP    15    $1195 Framed  or   $1045 Unframed
18x36   SN    95    $1195 Framed  or    $965 Unframed
18x36   AP    15    $1895 Framed  or   $1665 Unframed
24×48   SN    50    $1795 Framed  or   $1345 Unframed
24×48   AP     5    $2795 Framed  or   $2345 Unframed
36×72   PE     5   $10500 Framed  or   $9700 Unframed