Details
Arguably, the most popular pieces in the gallery are Grand Ol' Gang and True Blues by Andy Thomas. Every day, the majority of our guests stop in front of them trying to figure out who each president is. The pieces almost always spark conversation. You may feel something familiar about the paintings... he modeled them after the famous paintings of Cassius Marcellus Coolidge that depicted dogs playing poker. Thomas affectionately referred to his paintings as "The Big Dogs."
You might notice that Thomas hid lots of fun little things in his paintings that you would only really understand if you knew a bit about American and Presidential history. For Instance, In Grand Ol' Gang, (the first painting below), you can see Reagan's jellybeans, Ike's famous Indian belt and golf clubs, Roughrider Teddy Roosevelt's cowboy hat, Nixon in his often seen suit and tie, Bush's cowboy hat, and Ford's habitual pipe. Then, in the bottom painting, (True Blues), you might notice the curve of the wheel on FDR's chair, his cigarette, and the fact that he's making "The New Deal," Wilson's signature glasses, Truman's oft worn Hawaiian shirt, and Jackson's pistol/cane. So much research and time went into these, and they are so much fun! He has two more in this series that show the presidents playing pool.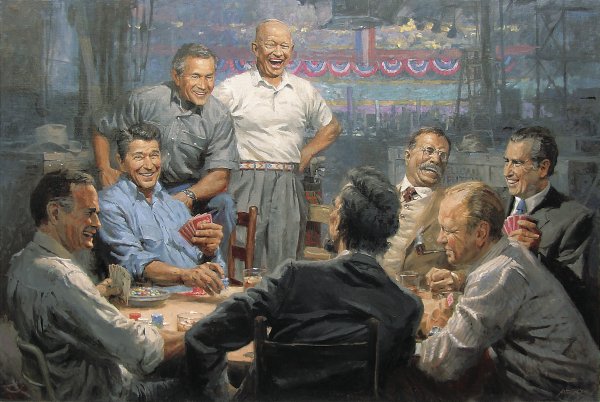 Left to right: George Bush Sr., Ronald Reagan, George W. Bush, Dwight D. Eisenhower, Abraham Lincoln, Theodore Roosevelt, Gerald Ford, and Richard Nixon.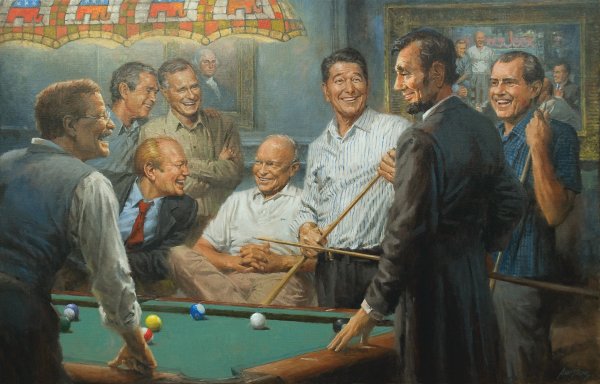 Left to right: Jimmy Carter, John F. Kennedy, Franklin D. Roosevelt, Bill Clinton, Andrew Jackson, Woodrow Wilson, Lyndon B. Johnson, and Harry Truman.